Happy Valentine's Day? Not in any recent memory anyway. This has always been a day that I have, well, despised. Even now that I am married it is not one of my favorite days. For one, it never goes the way it is planned. Now today my husband has to work, so we decided to celebrate early, on Saturday.
I went out earlier in the day to get my hair cut and buy a new outfit. I wanted to look my best since we don't usually get to go out. I had my hair cut pretty short, which must have caught my husband off guard, since when I walked through the door he blurted out "What the hell did you do? Why'd you get it cut so short? I'm sorry, I don't like it." The fight was on.
Later, having made up, I got dressed to go out for dinner and a movie. As expected, we couldn't get in to any of the restaurants that we wanted to dine at, not without a long wait, which would mean missing our movie. So we decided to go to a local fast food place that we liked, Happy Dayz. It has a fun theme and the food is good. We ate, and then went to see the movie…which had already started by the time we took our seats, even though it wasn't scheduled to start for another 3 minutes. Someone jumped the gun. We even missed all the previews…which oddly enough I like to see. Let's me know if there is anything coming out that I must see.
After suffering a coughing fit that forced me to leave the theater for the confines of the bathroom, I finally got it under control and returned. We were watching Harry Potter and the Deathly Hallows, at the dollar theater if anyone is interested in knowing. We are on a budget, even on Valentine's Day. It was excellent by the way, the best of them so far, since it followed the book a little more closely.
Despite our rocky start to the day, it seemed that this Valentine's Day was going to wrap up rather nicely. I had gotten a new laptop as a gift…to help me with my writing. He has been very supportive and this really made my day. I was happy. He was content. We were sitting at a stoplight and I was just getting ready to tell him how much I loved him and….the car died. It just stopped running. I turned the key, it started again, I breathed a sigh of relief and then….it died again. And. It. Wouldn't. Start. It just cranked, making its ggggggggggrrrrrrr sound.
I love my husband. He is not a strong man. I'm not sure a strong man could have done it, but he pushed our car across a busy intersection and up a hill into a convenience store while I steered. It wasn't easy. And of course I couldn't reach anyone on the phone. So we took a cab home, tired, annoyed and a little less happy. But, when I think back on it, we were together and that's all that matters, whether it is Valentine's Day or any other day. I don't see why one day is set aside to show the ones that you love that you love them. If you love someone, show them every day and quit putting so much expectation on one day.
Here are a few Valentines stories to get this day of Horror off to a good start.
Bloody Valentine
by Lisa McCourt Hollar
copyright 2011 Lisa McCourt Hollar
We would pass in the hall, every day,
With a smile and a nod,
Me on my way to work,
You, returning from
your morning jog.
I longed to speak to you,
Let you know how I felt,
But I knew if I did, reality
Would cause my dreams to melt.
So I continued as I was, alone
In the apartment across from yours.
Watching through the peephole,
Keeping an eye on your door.
When she moved in,
I was filled with rage,
Uncontrollable anger,
When I heard you were engaged.
She couldn't possibly love you,
The way I love you,
Or understand you,
The way that I do.
And then today, Valentine's day,
Roses sent to her that should have been mine,
Dinner, presents,
Champaign or wine?
She doesn't deserve it!
The ruthless whore,
So I decided
To knock on your door.
I'd seen you leave,
As I was watching for you to,
Were you leaving to buy her more,
To get her something new?
I would have been happy
With whatever you gave,
So you see, for you
I decided to be brave.
I knocked on the door
And she opened it, with a smile,
As though she didn't know who I was,
doubt creeping in, as I swallowed bile.
She invited me in,
Asking how she could help me.
I just screamed and pulled my knife,
Blocking her path, as she tried to flee.
I cut her heart out, for you to find,
When you come home
From wherever it is you went,
Leaving your love alone.
I know you won't forgive me,
I had hoped you'd understand,
I'd done this for us,
But now I know our love is damned.
For I've discovered inside her belly,
She carried your seed,
And I know you'll never see
Why I committed this deed.
So along with her heart,
That I've wrapped for you,
You'll find me waiting,
In your bedroom.
I put on the red teddy
I bought for the day
When you'd realize our love
And sweep me away.
But now today, I know it won't come,
As I lie in your bed,
Waiting your return
To find your love is dead.
Together we'll join her,
You and me,
We'll be happy in death,
Just you wait and see.
Valentine Gore
by Lisa McCourt Hollar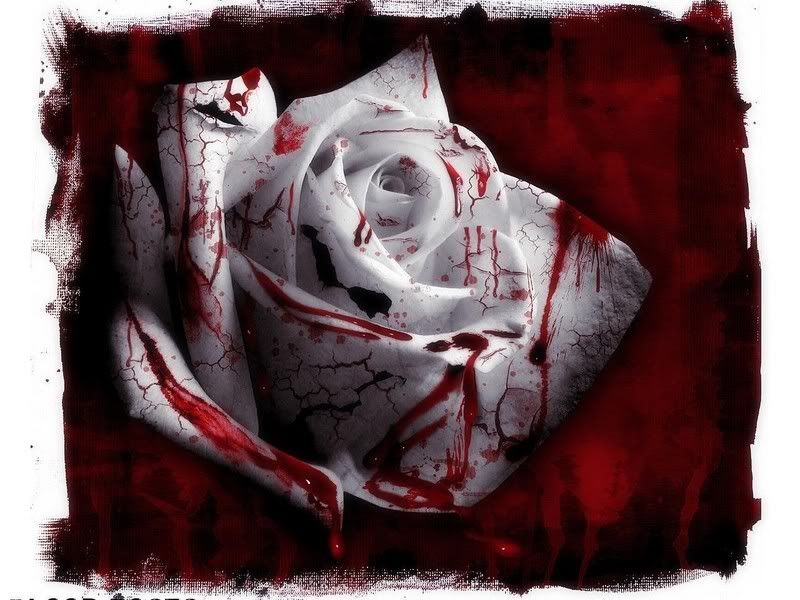 Sitting alone, tear filled eyes
Pain, misery, Surrounded by lies.
He said he loved me, Forever he swore,
Beaten and resentful, broken and torn.
My heart lay in pieces, carved from my chest,
Amid twisted ribbons of holiday jest.
The love that I felt spilled on the floor,
Amid all the pink, Valentine gore.